So..I'm not yet done with the updates of our weekend outings with the cub. Figured I better stop procrastinating on them, or else they will never see the light with dragonlady's impending arrival.
21 April 2012
Agenda for today: Hair trimming for the cub and getting stuff in preparation for dragonlady's arrival.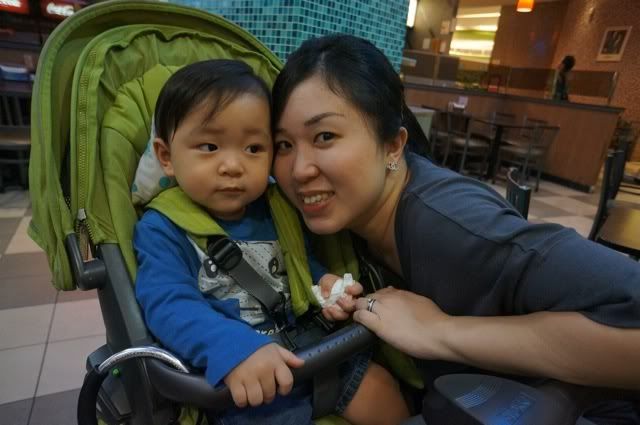 Breakfast at Carl's Jr
Pep talk
After getting some recommendations from friends, we decided to try out EC House at Harborfront for Thaddeus' second haircut. They have this little train ride machine in their shop especially for kids to sit in while they get their hair trimmed. After they are done, they can take a ride in it before leaving.
While we were waiting for our turn, a little girl was having her hair trimmed in the little train. So we took the opportunity to show Thaddeus how it's going to be and prep him up. He looked quite keen and was smiling when we showed him how well-behaved the chet-chet inside was. That gave us hope!
Hair's cut. Complete with swollen eyes and sniffles.
In the end, the 15-20 minutes of haircut was one of the longest 15-20 minutes we have ever experienced!!
The moment we sat Thaddeus in the little train machine, he freaked out and refused to stay seated. The husb had to carry him instead while he got his hair cut. Even then, he was still wailing his head off. We were utterly embarrassed by the racket he was creating. It was as if someone was abusing him!
Thankfully the lady who was cutting his hair seemed very chilled about the whole situation and made the best out of it. She even told me this was not the worst she has seen. Bless her heart if she was trying to make us feel better. When her other colleague was done with another customer, he came over to help distract Thaddeus too.
So glad the lady managed to give Thaddeus a decent haircut! (Although it looks as if all 3 of us had a haircut with the amount of hair that got stuck to us.) I like their positive service attitude and would definitely bring Thaddeus back for his next haircut IF we are not blacklisted.
shopping time!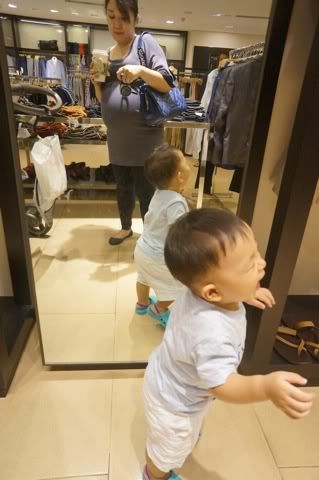 somebody, get me the shirt in my size!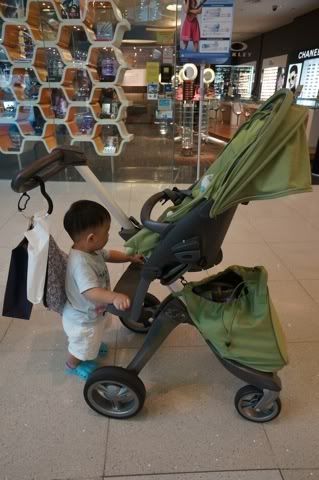 pushing his stroller around
We managed to get some of the items checked off our list and HAD to leave for home because my back started giving me really painful aches.