I had this crazy idea to do a photoshoot with a very heavily pregnant self, the husb and son. One of the locations our photographer suggested was the beach. Alright, people who know me would know I'm hardly an outdoor person, let alone a beach person. Dirty sea water and less-than-pristine sand in Singapore are not very enticing either.
HOWEVER, things change when you are a parent. What doesn't work for me may not be the same for my child. I should at least give him a chance to be exposed to a beach environment..right?
I believe it was this outing that broke my back..almost literally. Coupled with the previous weekly outings, my body eventually sent very strong signals that it can no longer take the physical strain. Because I needed bed rest often, I had to postpone our photoshoot till after the arrival of dragonlady. Felt really disappointed because I had wanted to take some nice photos during just-Thaddeus days and also to have some pretty photos of a pregnant me since this is most likely going to be the last time I'm going to be pregnant!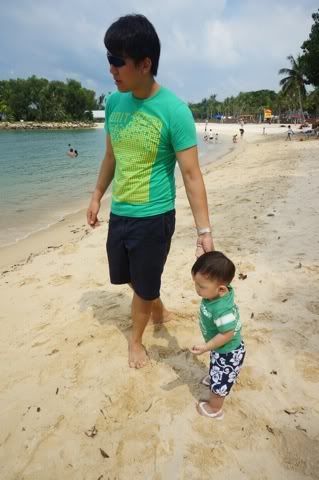 the cub was a lil' apprehensive
Having heard stories from fellow moms whose kids hate the sand initially, I was a lil' worried that Thaddeus would freak out when sand got to his feet. We were pleasantly surprised that he was okay with it!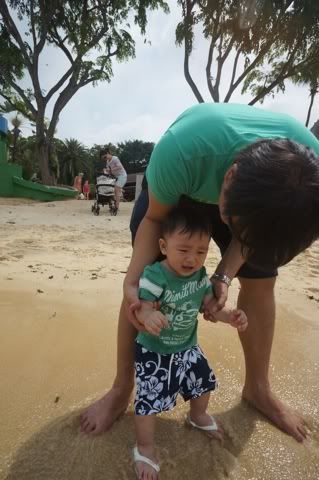 not a fan of the sea water
But he did made it clear he didn't like the sea water. For a toddler who loves playing with water, I guess he's as yin-jeem (Cantonese for fussy) as his Mommy with the sea water.
contented to play with sand
Thankfully, he really didn't mind the sand and sat down to play with the toys his cousin, Chloe brought along.
sneaking peeks at Chloe chetchet playing in the water
I made a mental note to get him a jungle hat, more sun block, beach attire and toys for the outdoor.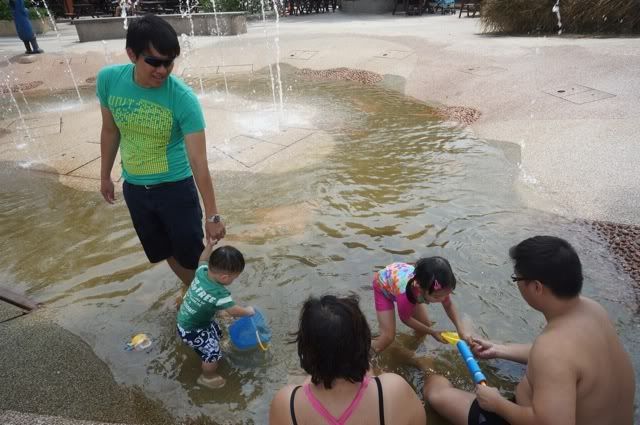 (cleaner) water fun for the cub
The heat was getting to us and we retreated to a little water play area for the kids to cool down.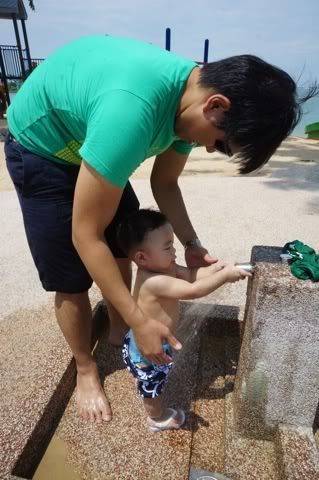 BATH TIME!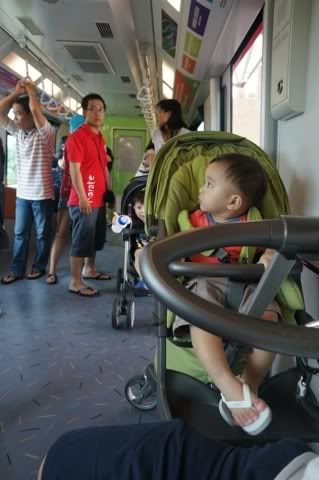 our first ride on the Sentosa Express
There's no more monorail and our lil' family of three went on our first ride on the Sentosa Express!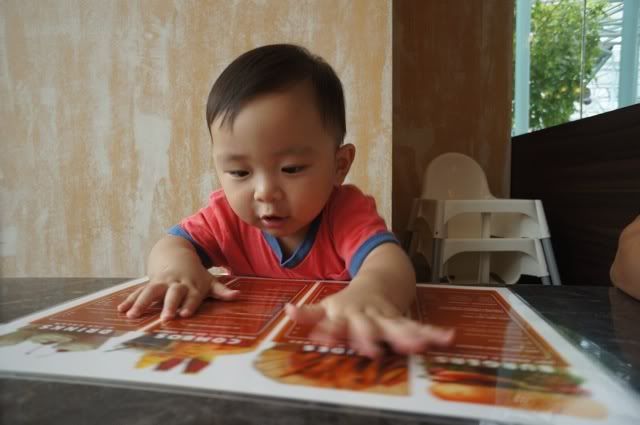 Fwah! BURGERS!
Settled our tummies before heading home with our extremely knackered bodies.