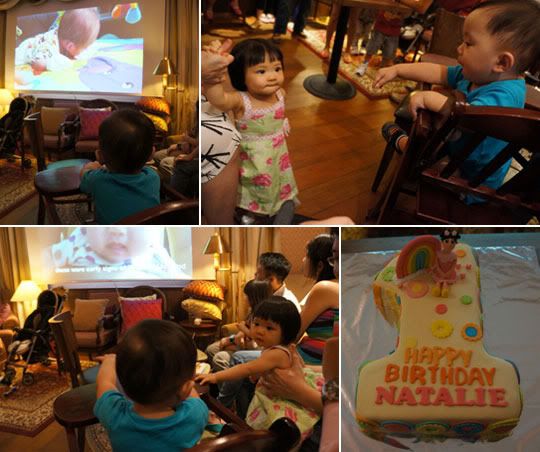 Natalie, who was born just about an hour after Thaddeus, celebrated her first birthday at Professor Brawn Cafe. So happening la, this girl. First birthday, already at Boat Quay!
The Chengs put together a video of Natalie's milestones. It was too adorable! Made me wished that I had taken more video recordings for Thaddeus' first year. From a newborn to a toddler, the first year is filled with loads of milestones and moments close to a parent's heart.
Thaddeus had good company during the party – little Nomi! This little lass who's a couple of months younger is already pottering around by herself whereas my little cub is still stuck to a baby chair 'cos he doesn't know how to walk.
Looking at these little fellas, I can't help but wonder how they will turn out when they grow older. Will they become fast friends like how their mommies are? Will they even date each other?! Fun thoughts to have eh. Maybe they will start off by going for enrichment classes together. 😉
To many more birthday celebrations together, kiddos!