Day Five
We got out of the dirty streets of smoky Rome..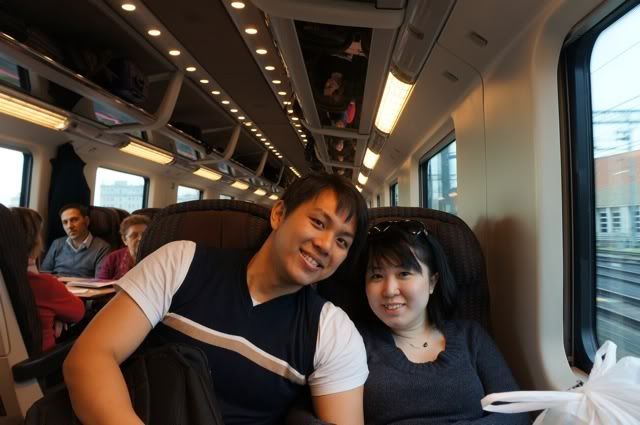 and took the train to…
FLORENCE, my favourite city in Italy! Not cos of the shopping, though that does win it some votes. I like it better simply because there were much lesser people smoking in Florence than Rome. The air seemed SO MUCH cleaner and I didn't have to hold my breath to avoid taking in secondhand smoke all the time!
We chose our apartment largely because it is located within walking distance from the train station – wouldn't want to lug our huge suitcases (and shopping bags after we are done with Florence) to and fro the station. Little did we know we were near to pretty much everything!
Mercato Centrale
The market is somewhat like our wet markets here in Singapore but cleaner and fully-airconditioned. There are local food you can get off the counter, wide variety of awesome wine at awesome prices, fresh vegetables, meat, etc. We were most pleased at the discovery because that meant yummy dinners during our stay in Florence since we had two chefs with us!
Right outside the market, we saw posters of Taiwanese Chinese words plastered over this ang-moh's stall that sells pig's stomach! Needless to say, that got all of us (except me) wanting to try. Apparently, it tastes really good and spicy!
Wandering through the few stretches of stalls outside Mercato Centrale, we arrived at Piazza del Duomo without having to look for it! We WERE staying in a good location.
Shopping streets and Hard Rock Cafe weren't too far away as well. Woot!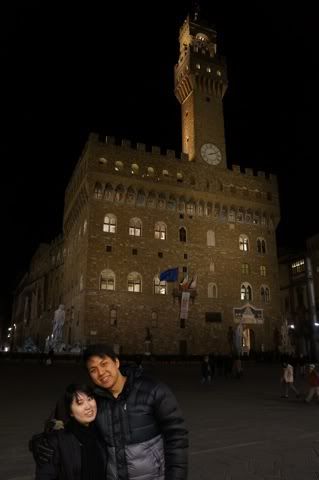 Pallazo Vechio
In the area of Piazza della Signoria, where we were right outside a Chanel boutique. Didn't get anything cos they had little variety in their models and not much of a good customer service attitude.
Feeling very pleased with what we sussed out in our area, we finally decided to head home for dinner!
Not before stopping by at a gelato shop right next to our apartment! Yes, desserts first!
Check out our homecooked dinner spread – Indomee goreng, xiao bai chye with garlic, steak, pig liver and a pot of hot potato+carrot+spareribs soup for the cold weather! Bliss.