Thaddeus and I had to skip our first Lunar New Year visiting last year because we were in confinement then. So this year, I'm rather excited to have him experience how our family celebrates this festivity!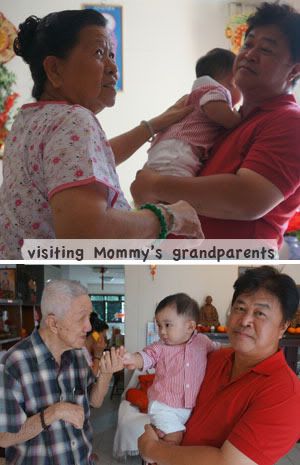 Our first stop of visiting is to my maternal grandparents' place. This is where I spent much of my very young days as my maternal grandma was the one who helped to look after a couple of my cousins, my brother and myself back then.
How nostalgic to see my son playing with his cousin at the same place where I grew up with my brother and two of my cousins!
We got Thaddeus some fitting Pedipeds so that we can let him walk around when we got tired of carrying. It's his FIRST time wearing shoes, so it took awhile for him to get used to walking in them.
Next stop is to visit the husb's eldest uncle. It's The Place to be for his family's Chinese New Year as all the individual families will make it a point to gather there. Am so glad that Thaddeus likes the company of babies and kids as there were many kids from the husb's cousins and their presence got him warmed up much more quickly.
Chinese New Year is very much more different when you have your own kid(s) as we try to make traditions more fun with them! BUT, it's a whole lot more exhausting too. With the husb's broken hand and my pregger state, our stamina to carry Thaddeus has been greatly reduced. Nonetheless, we had a good time with our baby boy and was quite the proud parents as he charmed many of our relatives with his cheeky grins.