Background story:
Although my mum has a fair taste of how a handful Thaddeus can be during his colicky days and when he fights his nap battles with us, she IS one of his biggest fans. She would always suggest for us to join baby contests 'cos Thaddeus has the cutest smile, and is oh-so-chubby! Yea, she is as biased as I am. I always see the sparkle in Thaddeus' eyes when he gives me his cheeky smile or grin!
Hence, when I saw that Mothercare is holding a casting call, I thought "why not?". Just for the fun of it! So we brought Thaddeus to the casting call to have some professional photos taken.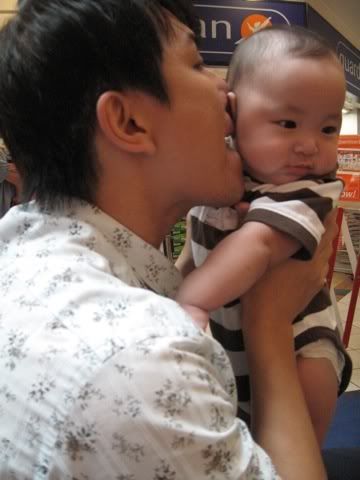 We went there early as Chubbs is usually in a happier mood in the morning!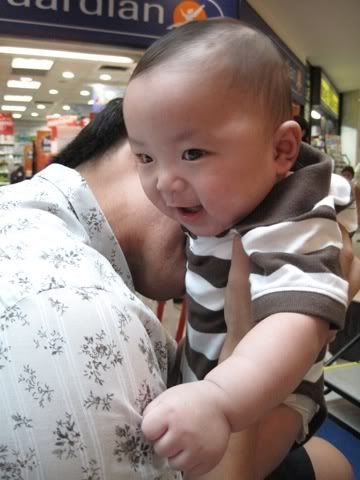 Warming up the baby
Listening to instructions..if only!
Mommy was thinking: "Thankgod he has learned how to sit up, else he can't fit into the Bumbo Baby Seat that they provide!"
Daddy gets a piece of the action too!
I gotta admit, I was disappointed when I saw the photo they selected for Thaddeus (see top picture) to be put on FB for voting. After all, I do have very cute photos of him taken by myself. When I went to the website to read the terms and conditions, I discovered that I could have given them some cute photos of Thaddeus for their reference!! SIGH…I feel that I have let my son down cos I did not let them see some of his cutest shots! A bit melodramatic, I know.
But you see, even pictures that I took casually right after the photoshoot looked cuter!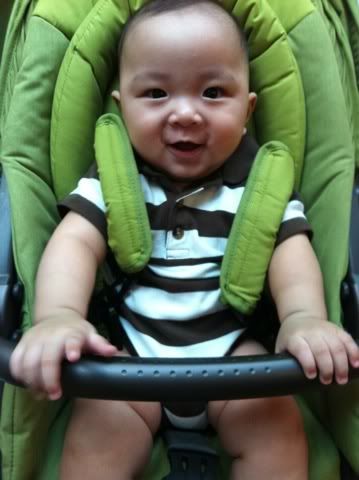 Check out my happy baby – glad to have that to-do checked from his Saturday!
If a baby smiles like this after using a product, I will buy it!
Alright alright, I am biased. Just like any other parent. 🙂