Before anyone starts thinking that I have "abandoned" my dear nephew because we have M&M now, let me clarify otherwise!
Matt is at a stage where he's very sticky to his parents. So unless it's a party, he would now think twice about joining us or even my parents. But I suppose it's a good thing that he knows who are the people that are closest to him.
We brought him to Ellie's and Noey's birthday parties some weeks ago and he totally impressed the husb and I how well-behaved he can be when he's outside. He's much more mischevious at home. Home ground, I guess!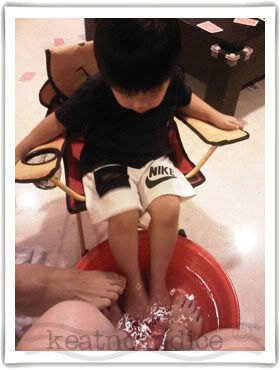 Matt is quite a funny fellow. When I was struggling with eczema, I had to dip my feet into ice-cold water every now and then to ease the itch. He'd pull up a chair and put his feet in with a cheeky smile. Thankfully, eczema is non-contagious so I let him dipped his feet together.
I can't help telling the husb all the time how grown-up Matt is now. He has decent conversations with us now. A typical conversation like this will take place when he sees us preparing to go out:
Matt: 姑妈, you going out?
Me: Yes
Matt: Are you going shopping?
Me: No
Matt: Are you going NTUC?
Me: No, but tomorrow we can go NTUC if you want. You want to go NTUC tomorrow?
Matt: OK!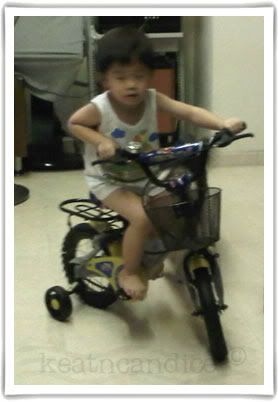 And look at him now – he has learnt how to cycle (though not on a real BIcycle yet) before he's 3! I dunno if it's considered a normal milestone but we're still very proud of him.