In a bid to squeeze in more quality time for each other, we decided to revive our month-versary celebrations. This way, we will have at least one day every month that's set aside just for us to go on a date and keep the romance alive!
It's not that we do not spend any time with each other, but most of the time, we're getting our to-do list checked when we are out. The husb has a very packed schedule for his week nights. We would go through our plans for the week ahead every weekend and I'd "book" his weeknight should his attendance be required for some of the meet ups I arrange. Like a PA eh!
Weekends are precious time for us to catch up on rest, continue on our house hunt, or simply running our errands, etc. By the time we are done, the weekend is over!
So anyway! We celebrated our 127th month anniversary at Ricciotti. The plan was perfect – a nice dinner and a stroll by the river after. Alas, migraine came AGAIN! It was triggered by the endless headlights that shone at me while I waited for the husb to pick me up at Ion. Bummer. We had to scrap the stroll and head back home right after dinner. Nonetheless, it was a good attempt and we will keep it up!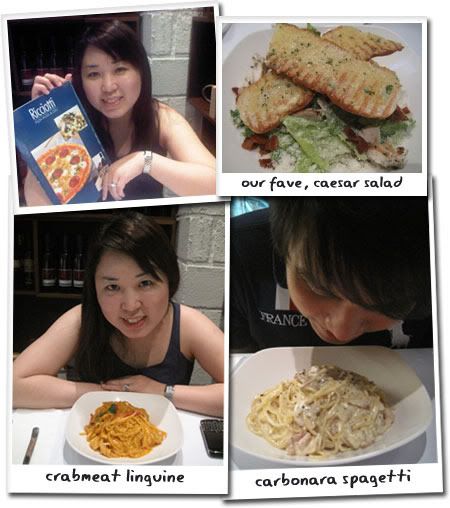 p.s: Amex card promotion – 1-for-1 pasta or pizza! Great deal, I say!